:: "fully interactive, informative and well presented, invaluable for Directors and senior managers"
Business Age
:: "This is an essential business tool that will help all business develop and prosper"
Inside Business
:: "Essential for anyone running a small business"
Better Business
---
Now available in :
:: Tehran
:: Dubai
:: Doha

Free delivary right to your door! [limited offer]
---
Ditributors click here to join the network.
---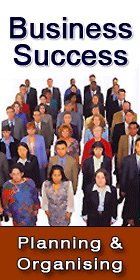 Planning and organising is about getting the right things done, in the right way, at the right time, by people who have the skills to do the job right.

The way that you plan and organise your team has a significant impact on your effectiveness, the effectiveness of your team and on the overall profitability of your business.
In this course you will :

:: Learn how to plan and organise for maximum effectiveness and maximum motivation,
:: Discover tools to unlock productivity and quality improvements,
:: Learn how to create work flowcharts and how to analyse your processes,
:: Use "Real World" tools to get you and your team working together to improve the overall effectiveness and profitability of your business.



Approximate duration of this CD course : 3 Hours
This course has been carefully designed to deliver proven, effective training, coupled with a series of "real world" tools that help you to apply what you have learned to your business.
The Business Success series is suitable for professional managers of all levels, business owners and business students.
آموزش مهارتهاى ۷ گانه كاربرد رايانه براى اخذ گواهينامه ICDL:
:: آموزش نرم افزار و سخت افزار
:: آموزش ويندوز
:: آموزش Word
:: آموزش Excel
:: آموزش Access
:: آموزش PowerPoint
:: آموزش Internet و Email
فقط با يك CD